With the advent of Karaoke machines in the 1970's, the term "Karaoke" quickly seeped into pop culture and became the staple source of entertainment at bars, pubs and parties across the world. Back in the day, Karaoke machines used to be bulky and expensive and were normally accompanied by a microphone with rolling lyrics. Not anymore. Nowadays anyone can recreate the same experience in their home for free. But, a decent professional karaoke software is hard to find especially when there are hordes of knock-offs online. So, how does one get a free professional karaoke software to liven up their party? By going through our list of the best free karaoke software for Windows and Mac, of course!
10 of the Best Free Karaoke Software for Windows and Mac in 2020
1) Kanto Karaoke (Windows & Mac)

If your friends are coming over for a fun-filled karaoke night, then Kanto Karaoke is decent program you can rely on. Not only does it support numerous multimedia and video formats spanning both Windows and Mac, Kanto also allows users to record their voice and listen to it later. Yes, it works pretty much on the lines of a DAW in this regard.
Of course, you can revel in super karaoke fare to sing your heart out the entire night and create unlimited playlists, edit audio settings and do playlist and live performance management in a snazzy full-screen mode. Wait there's more in the offing, Mac users can also play songs in the CD+G player format and convert their device into a professional karaoke unit.
2) KaraFun Player (Windows)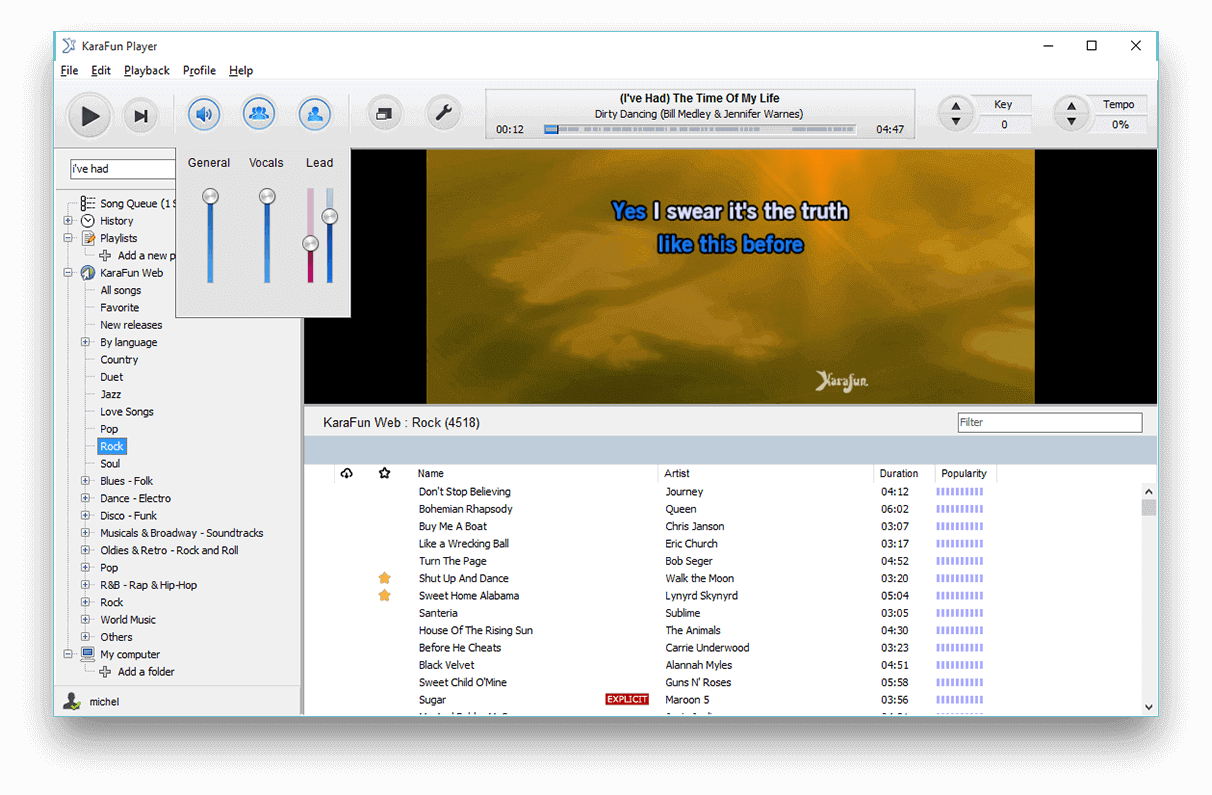 A massively popular karaoke program with a mobile Karaoke app too, KaraFun Player boasts over 22000+ songs with the option of offline syncing so that users can jam all night long and reap its benefits despite limited connectivity. What's more, KaraFun Player packs in a dual screen display and abundant customizable keys that guarantee a gala time.
But the what really makes it one of the best free Karaoke Software on the market is its feature wherein you can instantly save all your favourite songs. Furthermore, KaraFun Player supports a plethora of karaoke file formats such as KAR, MPEG, MID, or CD+G.
3) iStar (Mac)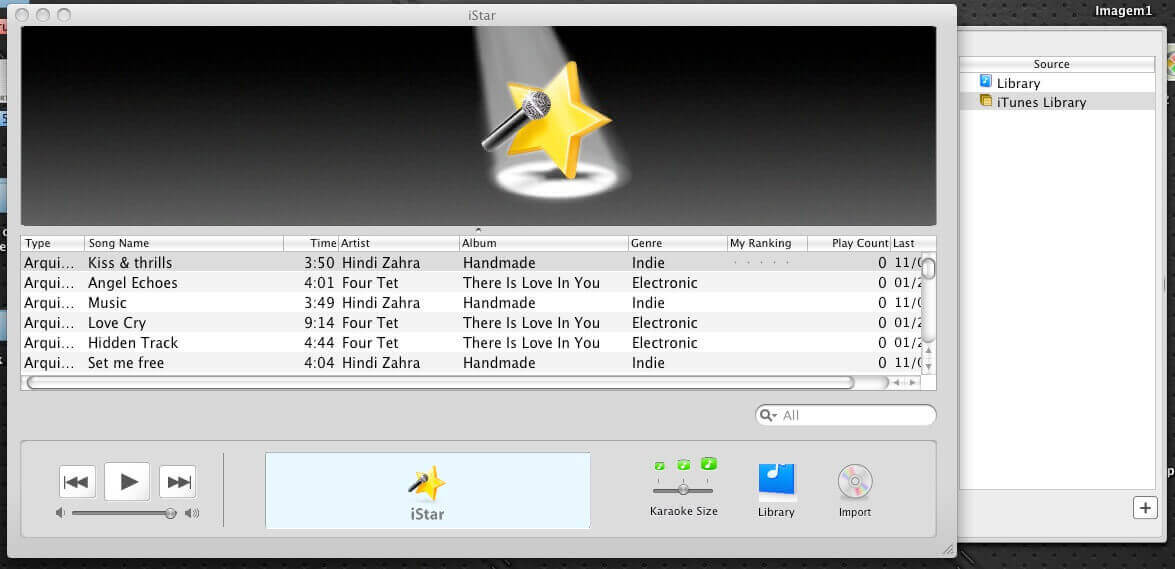 Without a doubt one of the best free karaoke software for Mac, iStar calls for starry-eyed sick jams as your friends and loved ones bop to the fine music. For starters, iStar can easily convert and play out almost all types of file formats instantly.
The modus operandi is straightforward: simply compile all the songs into a list after you have imported a karaoke file. Now these songs can be classified and played whenever the need be. So much so, iStar supports various kinds of multimedia files and there are no restrictions on the kind of files you want to import.
4) Aria (Windows & Mac)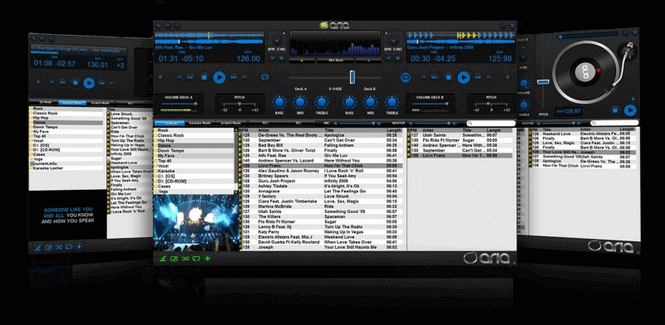 Seeking a professional and authentic karaoke sound experience? Look no further than Aria which is great source of producing splendid musical moments with your friends and loved ones. Regarded by many as one of the best free karaoke software for Mac and Windows, Aria sports a simple and intuitive interface where you can compile and arrange all your favourite songs with zero hassle.
Even if you are a newbie, selecting and playing songs becomes a walk in the park. Moreover, for an enhanced karaoke experience users can choose from an array of Aria play modes that guarantee good fun-filled times.
5) Siglos Karaoke Professional (Windows)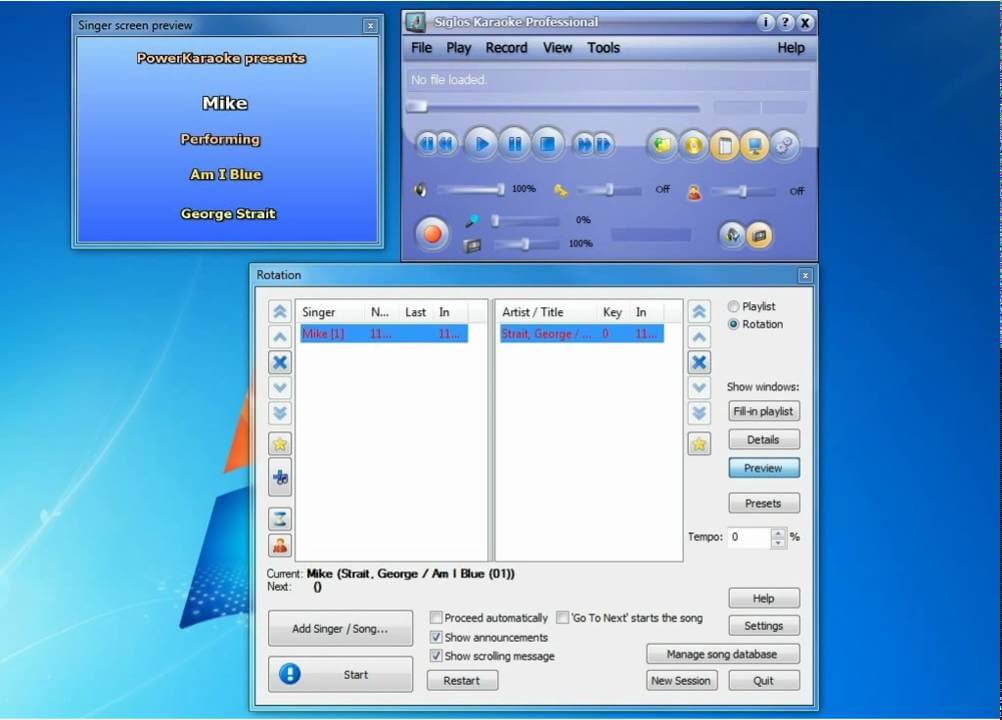 Not many karaoke software can claim to be as feature-ridden as Siglos Karaoke Professional. With an easy-to-use interface and advanced functions for making the lyrics look bigger and peppy, Siglos is also fun to use whilst managing or arranging playlists.
For starters, Siglos Karaoke Professional relieves you of the burden of stacking up heaps of old CDs for karaoke. How? Well, it comes with a two screen display where you can simply load all your favourite songs and voila you have set yourself up with a sweet karaoke session!
Without spending a dime on an expensive karaoke machine, Siglos provides you with the ultimate Karaoke experience. It is easily one of the best free Karaoke software for Windows if you are on tight budget.
6) OneKaraoke (Windows)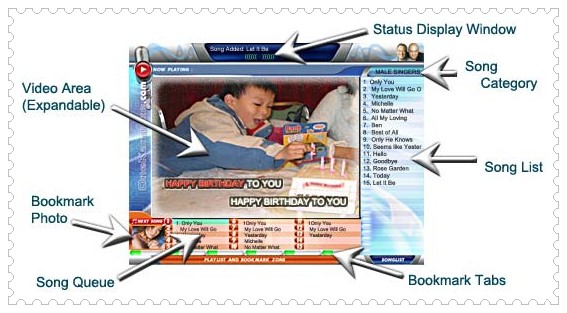 A very easy-to-manage program for those who are well-versed in basic Windows management skills, OneKaraoke lets you organize hundreds of songs and supports a gamut of audio and video formats such as mp3, kar, mid, WMV, DAT, mpg, Avi, WMA, MOV, et al.
What else makes OneKaraoke the best free Karaoke software for Windows users? For seamless operation, you can also avail features such as keyboards, and numeric keyboards to manually tweak the playlists. Or, if you just want to go mouse-less then operational handheld remotes can also come in handy to use OneKaraoke.
7) Kjams (Mac)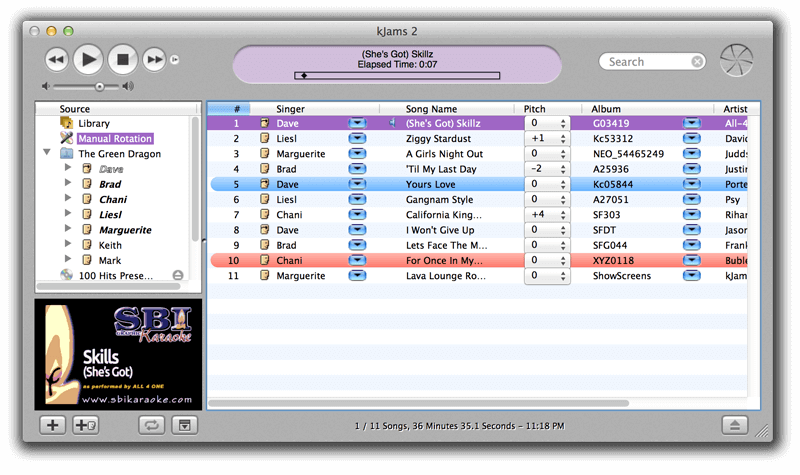 Right off the bat, we were awestruck by Kjams UI which starkly resembles iTunes in many aspects. Mac users will feel at home whilst managing and editing playlists on this beast of a karaoke program. Kjams also offers effortless syncing with iTunes and comes loaded with a decent management tool for controlling and tweaking the pitch/range of your singing voice.
To enjoy a karaoke jam simply stack up your favourite songs to the system and hit the play button. You can also gaze at the lyrics of songs that flash on a duplicate window as you belt out party night stompers. All in all, Kjams makes for an ethereal karaoke experience with a professional setup that's easy to manage.
8) Just Karaoke 2 (Windows)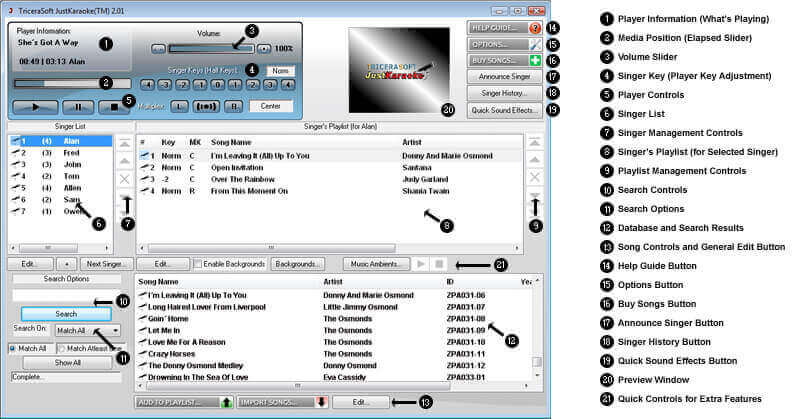 True of its name, Just Karaoke 2 is symbolic of Karaoke, karaoke and more karaoke action. If you are planning on throwing a party for your pals with some decent music thrown in for a good measure, Just Karaoke is easily one the best free karaoke software for Windows PC on the market.
The software comes loaded with impressive features such as: a huge library of 70,000+ songs, tons of sound effects, nifty song manager, singer announcement, dual output screen, easy song searches with shuffle, and so much more.
9) Karaoke 5 (Windows and Mac)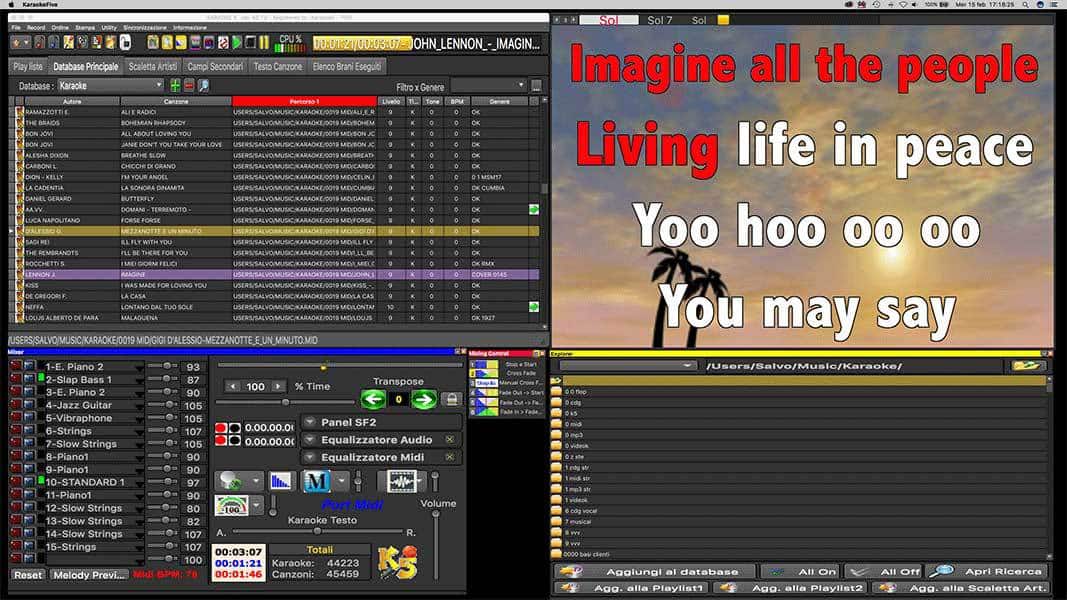 Assembling all your favourite songs in single or multiple playlists can often be painful and time consuming. The struggle is real especially when your songs are strewn about the house in multiple file formats. Karaoke 5 makes short work of all such struggles as you can easily store your favourite songs under one one roof for the ultimate karaoke experience.
A robust Windows and Mac karaoke software, Karaoke 5 lets you sing your heart out to your favourite tunes without any glitches. Plus, it also supports all kinds of media file formats so you can just sit back and enjoy the musical extravaganza all night long.
10) QMIDI V.2.0 (Mac)
The last entrant on our list of the best free Karaoke Software, QMIDI V2.0 is an enticing option for Mac users who are looking for a karaoke player that supports multiple file formats. With QMIDI V2.0's actionable tools at your command, you can edit chords and lyrics of multiple songs that you have loaded onto your Mac with ease and grace.
What's more, you can synchronize playlists and play your favourite songs in a sequential manner, thus have some amazing karaoke fun on the go.
And…that's a wrap. Did you like our handpicked list of the best free karaoke software for Mac and Windows? Sound off in the comments.
SEE ALSO: 60 Best RainMeter Skins for Windows