Popular browser-maker Opera has announced that its Android browser app will start rolling out a free VPN as an add-on. As of now, only beta users can use the feature which will tentatively be rolled out for all users. The VPN is free and unlimited and can be set to locations in Asia, Europe and America with an "optimal setting" that can hook you up with the fastest available connection.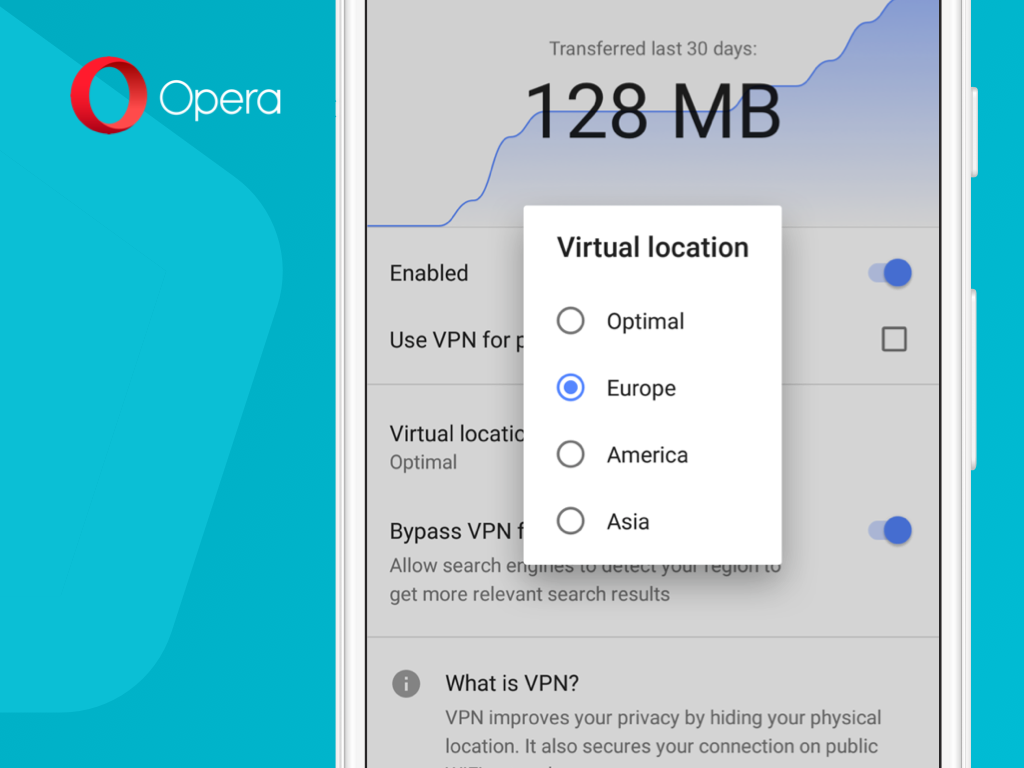 Interestingly, Opera was the first ever browser-maker to tag along a VPN with its service, and now that endeavour is expanding to its Android mobile version. Although Opera did offer a free VPN app for Android and iOS devices, that project was closed in 2018.

Now with a free VPN built into its Android browser, Opera has made it harder for websites to track location and user data. There are granular settings which helps users limit their VPN usage to private tabs. Moreover, switching on the free VPN means that user traffic data will not collected by Opera.  
The new strategy of integrating a free VPN into its browser is aimed at getting a competitive edge over rivals such as Google Chrome and Mozilla Firefox and use the tech to bring more users into the Opera fold. However, there's no word on a tentative iOS launch.

"We are including this built-in VPN in our Android browser because it gives you that extra layer of protection that you are searching for in your daily mobile browsing," Opera said in a blog post. The free VPN, which is powered by a 2015 acquisition, is amongst a slew of privacy features that Opera offers including cookie dialog box blocking, ad blocking and cryptojacking.
The NASDAQ listed company also offers support for crypto with the addition of a crypto wallet, support for Web 3 apps and its latest feature that lets users buy crypto from inside their browser.