If you want to purchase a decent galaxy & star projector for your kids or for yourself, then you must have first hand knowledge of some of the offerings on the market. Down below we have reviewed two of Encalife's galaxy & star light projectors: Ambience and Atmosphere. They are the perfect accompaniment for indoor decoration as constellation projector, space projector, room light, starry night light, sky light, Baby Nursery Lamp, Party lights, bedside lamp and more!
Best Star Light Projectors: Ambience and Atmosphere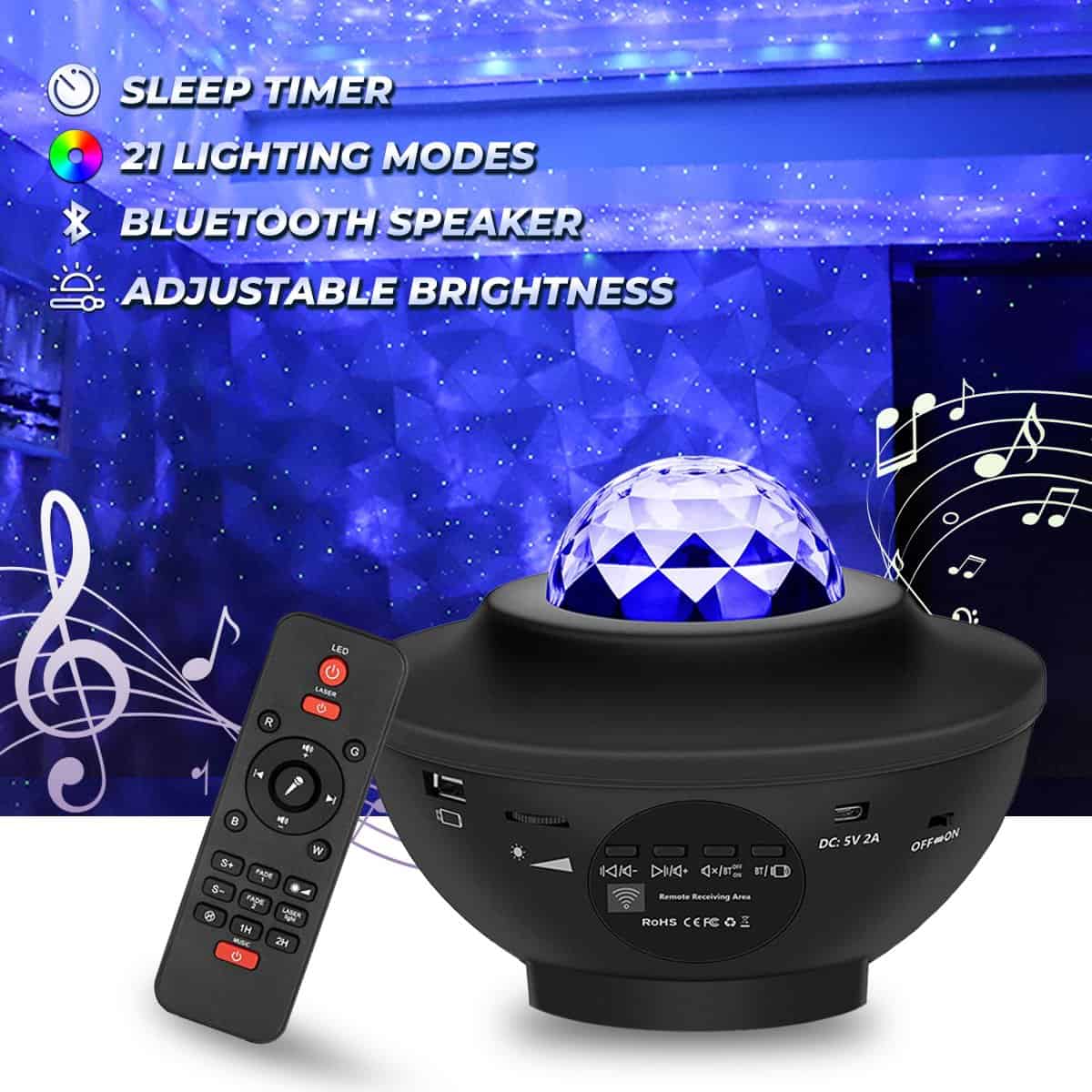 Ambience comes with a remote control, and power cable that are all packed inside a compact gift box. Let's get into the nitty gritty of it.
Star Light projectors like Ambience are the best replacement for your bedroom night light. Ambience lets you explore up to 21 Lighting Modes and variations! What distinguishes it from others is that it lets you select or combine 4 different colors and pick your preferred choice of motion.
The light colours vary from white, blue, to red, and green. Interestingly, you can also use a combination of any 2 colors simultaneously. The motion speed controls can be set as stationary or set to motion at different speed levels. Tweaking these controls lets you simulate an immersive experience of visiting different galaxies every night for your kids.
PLAY RELAXING MUSIC VIA BLUETOOTH
Soothing and sublime music is a great stress buster. And what better way to enjoy a good sleep with soothing ethereal music playing in the background? Galaxy and Star light projectors like Ambience let you play your favorite music before bedtime.
It comes with a quality Bluetooth speaker that also comes in handy for playing bedtime stories or relaxing lo-fi sounds for both kids and adults alike. Ambience can easily be paired to your smartphone or music player via bluetooth connectivity.
EASY REMOTE CONTROL
Enjoy a hassle free experience of tweaking settings of this star projector from your comfy bed or couch with just the press of a button. It alleviates the need for you to needlessly get up and adjust a ton of settings.
You can very easily play music, shuffle tracks on your playlist, change hue settings, or switch on and off the star projector through a remote controller from anywhere in the room.
AUTOMATIC SLEEP TIMER
Okay, just leaving star light projectors on all through the night can surely trigger a rise in your electricity bills. However, Ambience does away with the need for you to get up and turn it off.
Yes, we get it. Leaving your warm, cozy bed on a chilly winter night is dreadful. The adjustable timer on Ambience can be set to shut off anytime you want. It comes in handy a great deal especially when you want your kids to fall asleep at night real quick. You don't have to secretly wait for them to doze off so that that you can finally turn the device off.
GET GOOD SOUND SLEEP ALL NIGHT
An ethereal galaxy like simulation riddled with dazzling night sky lights and starry nebula clouds can surely simulate an awe-inspiring planetarium in your kid's bedroom.
Ambience star projector emits light that is neither too bright nor too dark, it is just the perfect mix of night light for healthy sleep.
These lightings also help forge a relaxing atmosphere that can add a soothing effect on the mind and help induce a good sound sleep which is a must for kids with the fear of the dark or adults who have bouts of insomnia.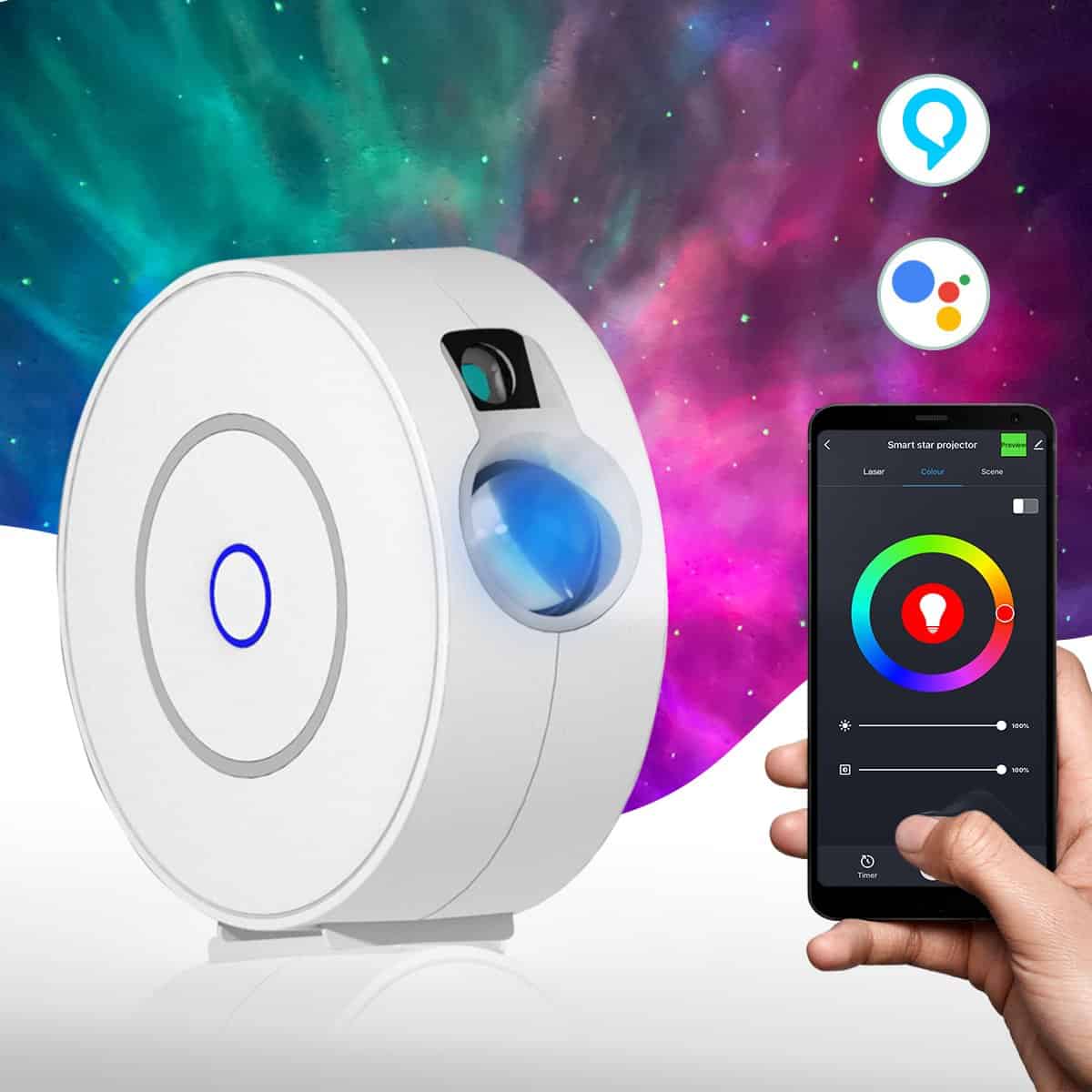 Atmosphere galaxy and smart star projector comes with a remote control, and power cable and adapter that are all packed inside a compact inner gift box. It also comes with easy-to-understand instruction manual and an outer safety box. Let's get into the nitty gritty of it.
MILLIONS OF COLOR COMBINATIONS
One of the finer aspects of Atmosphere is that it lets you choose from over a staggering 16.7 Million of nebula colors that can be selected or tweaked to taste using the color wheel on your smartphone.
Atmosphere star projector offers colors that run the gamut from fiery red, sapient green to cool crystal blue, wherein you can adjust color combination per your mood and easily swap or add color combinations. These colors can be projected onto the ceiling.
SMART INTEGRATION
Atmosphere star projector is compatible with both android or iOS smartphones and can be simply set up in a few seconds. You can programme the scenes to your liking and create a plethora of star and nebula combinations as scenes that suit different moods.
ALEXA & GOOGLE ASSISTANT VOICE CONTROL
You can also use voice commands to turn Atmosphere on and off via Smart Life app that allows seamless control from anywhere in your room.
What's more, Smart Life app offers Alexa and Google Assistant-esque voice control capabilities to Atmosphere star projector so that you can adjust the speed, easily change colors, and tweak the brightness.
ADVANCED BRIGHTNESS
With Atmosphere's advanced brightness functionality users can seamlessly adjust the brightness of the nebula and stars projections individually. With this option you can: opt to dim the stars lights and/or increase the nebula for a more ethereal fee.
Alternately, you can also dim the nebula and brighten the stars to simulate the radiant night sky in the comfy confines of your bedroom.
TIMERS AND CONTROL SCHEDULES
Did you know that Atmosphere Star projector also lets you program it to turn on and off during any specific time and day of the week. Its automated sleep timer functionality lets you enjoy a good snore without a single care in the world. Gone are the days of fretting over setting up a sleep timer and ruining your sleep over it.
CONTROL STAR MOVEMENTS
Last but not the least, you can truly recreate the magic of night sky through fine tuning the speed of the stars and nebula clouds movements. Fine tune them as slowly or as quickly as you want them through the Smart Life app or handy remote control.
Want to unwind after a hard days work? Simply slow down the movements when want a quick power nap. Likewise, if you are feeling upbeat, you can increase the pace of star movements to recreate a lively environment in your room.